Welcome to the UAM STEM Education Center.
---
Welcome to the UAM STEM Education Center on the campus of the University of Arkansas at Monticello. Our mission is to improve Mathematics and Science Education in the Southeast Arkansas area through the implementation of programs which enhance the math and science knowledge of our students and teachers. We support the objectives of our national, state and local math and science organizations which include: NCTM, NSTA, ACTM, ASTA, SEACTM, and SEASTA.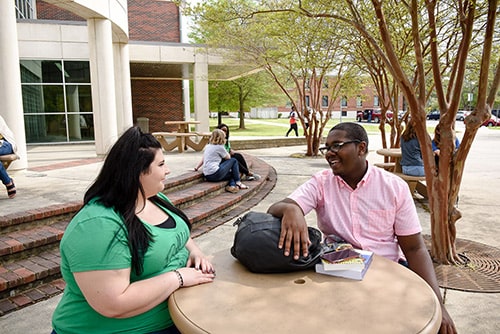 Websites
A Kid's Guide to Mechanics and Engineering
"A Kid's Guide to Mechanics and Engineering" https://www.yourmechanic.com/article/a-kid-s-guide-to-mechanics-and-engineering-by-maddy-martin
Engineering is a science that involves creative thinking to solve problems or design inventions. Engineers usually use their imaginations to make new objects. These objects might make people's lives easier. Sometimes engineers work on objects that already exist to make them better. Examples of objects that engineers have created include car engines, computers, bridges, robots, and furniture. Engineers need to have strong science and math skills to design inventions. Engineering includes a lot of different things, and the people who work as engineers often feel strongly about helping people and making a difference in the world.
Biographical information on a scientist- Snowflake Bentley. http://snowflakebentley.com/
Math and literacy plus games with the many links on this page: http://www.mathwire.com/seasonal/winter05.html
NGSS at NSTA Website:
Introduce a different way of thinking to your classroom
Planning an NGSS Curriculum
Designing Units & Lessons
Selecting Materials
Conducting Assessments
Engineering is Elementary Website:
Engineering is Elementary supports educators and children with curricula and professional development that develop engineering literacy
Mindware Website:
One of the nation's best resource for educational toys for kids and learning toys for kids that engage and entertain. Whatever kid's learning toys you select, we guarantee that your children will learn—and have fun—while they play!
http://www.mindware.orientaltrading.com/
Better Lesson Website:
This site was founded by a group of teachers from Atlanta and Boston public schools to connect educators and help them create, organize and share their curricula. Free K12 Lesson Plans and Resources
Newsela Website:
Unlimited access to hundreds of leveled news articles and Common Core–aligned quizzes, with new articles every day
Great website! Check the other lessons: Earth, Physical, etc http://www.ccmr.cornell.edu/education/educational-resources/teacher-developed-lesson-plans/
Topical List of Earth Science Websites
Links to various resources for Rocks, Minerals, Pollution, Plate Tectonics, Glaciers, Soil, Energy, etc. etc. http://webs.cmich.edu/resgi/
Teach with Movies
Many teachers use video to enhance instruction. Teach with Movies has lesson plans for hundreds of movies useful in all content areas. Membership is $1 per month, but you might be able to talk your librarian into purchasing a subscription.
Check the sample plan for October Sky at: http://www.teachwithmovies.org/
Microscopy Website
This site contains links to various items related to the use of microscopes. Check out the Microscope Primer, a downloadable guide to using a microscope, a Pond Life Identification Kit (relates to primary frameworks), Pond Dip- a virtual pond with information about all the critters found there, MicScape a magazine devoted to microscopy plus over 2000 previously printed articles, and links to the best microscopic image galleries. http://www.microscopy-uk.org.uk/full_menu.html
Brain and Nervous System Links
Dozens of links to materials useful when teaching about the nervous system for all levels. Lots of kewl stuff! http://faculty.washington.edu/chudler/works.html
Tech Tip: Handheld Digital USB Microscopes
Recent innovations in the field of microscopy include digital configurations that may be compatible with the needs of the primary/middle grades for demonstration purposes. One such product is ProScope, sometimes called "Scope on a Rope". This microscope attaches to a computer and can be used to capture video, time lapse, and stills of magnified objects. It comes in several magnifications, is purported to be easy to use, and portable.
If you already have good quality microscopes at your school, a flexible camera can be attached to the ocular and interfaced with a television. Prior to doing lab work, magnified objects can be viewed by all students as the teacher points out specific areas of interest. This is an excellent teaching tool when students are faced with trying to identify cells in various stages of mitosis, the difference between xylem and phloem in plants, or differentiating cells in any tissue etc. Flex cams can also be used to focus on the gross structure of larger objects i.e. organs in dissected specimens.
Paper Models
Paper Fractal Geometric Model http://www.ss42.com/pt/fractle/fractle-fidgets.html
Links to dozens of different kinds:
http://www.artistshelpingchildren.org/artscraftsideaskids/3dfoldingmodelspapercrafts.html
Upper Level Teachers- If these seem too simple to be used as review, use them as an introductory Formative Assessment before you begin a unit to find out how much your students remember from previous classes.
Virtual Pig Dissection link:
http://www.whitman.edu/biology/vpd/main.html
All Teachers:
PBS TeacherLine now offers WGBH/Teachers'
Domain professional development courses in Physical, Life, and Earth and Space Sciences for elementary, middle, and high school educators, as a special collection within PBS TeacherLine.
You may be eligible for a complimentary PBS TeacherLine Course through the Arkansas IDEAS Learn Now initiative. To learn more, please visit http://ideas.aetn.org/ .
Fall national courses begin Wednesday, October 24, 2007 , and courses in your local area may have additional start dates.
"Text Messaging"
Your students, and your children, speak a new language….…it's called "Text Messaging". For many of us it
is completely incomprehensible, but it saves them time as they try to send quick messages using the tiny key pads on their cell phones. I haven't ventured into text messaging since I CRS (can't remember stuff) as easily I could years ago and TSNF (that's so not fair!). If we want to understand this generation PLU (people like us) should know something about their "culture". Here is a link to a Text Messaging Dictionary, maybe you will find it useful.
I may try learning a little of it myself, just as soon as I can find the text messaging button on my phone.
http://www.webopedia.com/quick_ref/textmessageabbreviations.asp
US Mint Lesson Plans
Downloadable lessons on the state quarter series and other recently issued coins. These would work well for those of you teaching social studies in addition to science.
Lesson- Extracting DNA
This requires simple items you have on hand, or can find at local businesses. Students from Middle School up can easily complete this DNA extraction activity and it works with a variety of plant materials. .
http://www.lessonplanspage.com/ScienceDNAExtraction912.htm
Lunar Plank Growth Project
Register online to participate in the NASA Engineering Design Challenge: Lunar Plant Growth Chamber. During the 2007-2008 school years K-12 students will design, analyze, build and assess plant growth chambers that could be used on the moon. Registrants will receive a packet of cinnamon basil seeds that flew on the STS-118 space shuttle mission and a control packet of seeds that have not flown. The two sets of seeds will be used to evaluate the student-designed plant growth chamber. Sign up for the NASA Express listserv to receive e-mail messages about the challenge, updates to the challenge Web site and announcements about NASA education activities.
http://www.nasa.gov/audience/foreducators/index.html
$120,000 in reading software programs and training
Grant Title : Schools in Need Competition Organization : Knowledge Adventure Eligibility: K-8 schools
Value: 10 awards of $12,000 each Deadline : December 15, 2007 Contact:
http://www.knowledgeadventure.com/school/
The Schools in Need Competition will launch on July 1, and is open to schools that need to raise reading scores by at least 30 percent among a population of students between grades K-8. Schools must also show a need to have supplemental reading materials that address specific reading deficiencies and to use the technological investments the school has made for reading instruction. Winning schools will receive the new Knowledge Adventure Academy line of products for early literacy, reading comprehension, and vocabulary, along with training and support.